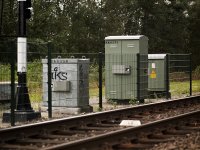 9.3
Fencing off objects close to the tracks
Description
What does this measure refer to and what is its objective?
Installing fences to isolate different objects, artefacts or buildings close to the tracks which may pose problems for safety and security (e.g. technical cabinets, storehouses, abandoned buildings).
Recommendations
Best practice and lessons learned
Determine where to install high security fencing, considering past incidents for fatalities, equipment debris strikes and trespass reports. You can take into account the presence of schools, parks, frequent standard fence breaches, presence of homeless, presence of graffiti, gathering points, trails, etc. Fencing is more frequently necessary when the rail line is located close to the city centre.
In the vicinity of level crossings, other measures can be added such as special U-turn fencing cameras, special anti-trespassing grid, etc.
Warning points
Expected difficulties and issues you should pay attention to
For practical grounds there needs to be a gate in the fence to provide access to a cabinet or other facility by authorised staff. Consider the systems for securing the gate and its use.
The effect is stable assuming that control and maintenance is done. Trespassers might change locations over time, however. A person aiming at suicide or trespass for criminal purposes could look for other locations in the area.
Observations
Other points that you should not forget
Mainly a security need, but can stop people hiding behind them - either if suicidal or trespassing.
The type of fencing needs to be considered.
Study results
Data or other evidence supporting the measure's effectiveness
Evidence regarding effect of fencing alone on trespassing has been found in one study (Silla & Luoma, 2011) where it reduced trespassing by 94.6%, but for one specific location in Finland. No evidence has been reported about the effect on suicide.
Supported by 44.5% of respondents (Silla & Luoma, 2012b)
Although some studies have demonstrated that fencing and landscaping are the most effective ways to reduce trespasses (Silla & Luoma, 2011), focus groups with British as well as Spanish experts showed that fences are not necessarily effective, such as for the determined people who will get over or under a fence if they really want to, or for the people who will break it in order to cross.
Urban fencing would reduce trespassing fatalities by a maximum of 100 persons a year if well maintained (Savage, 2007).
Barriers can be costly, are permanent, need to reach six and nine feet to be effective, and therefore need to be placed where there is a risk of suicide (NIMH, 2006).
The literature suggests that this is one of very few approaches for which there is strong evidence of effectiveness. The theory behind restricting access to means (at hotspots) is that it may 'buy time' for the individual to reconsider his or her actions, particularly in situations where these actions are associated with impulsivity or ambivalence (Cox et al., (2013).
last update: 2014-09-10